A B2B marketing agency New York understands the pivotal role that digital marketing plays in the contemporary business landscape. B2B businesses are increasingly realizing the importance of implementing digital marketing tactics in order to maintain their competitiveness and cultivate long-lasting relationships with their customers in an age where technology and connectivity rule supreme. 
In this digital age, the question is not whether B2B businesses should invest in digital marketing, but how effectively they can harness its power to drive their success. Let's look at a few of the reasons why digital marketing is so impactful for the B2B industry.
GLOBAL REACH AND INCREASED VISIBILITY
Reaching a worldwide audience is one of the most important benefits of digital marketing for B2B companies. Digital marketing strategies like search engine optimization (SEO), social media marketing, and email marketing allow B2B businesses to reach far beyond geographical boundaries as a result of the internet's ability to link individuals from all over the world. This worldwide exposure opens up new opportunities for enterprises, enabling them to access global markets and form alliances with businesses around the world.
COST EFFECTIVE AND HIGHER ROI
For B2B companies on a tight budget, traditional marketing strategies like print ads and television commercials might be unaffordable. On the other side, digital marketing provides affordable options. Online marketing, email promotions, and social media initiatives frequently cost less money and yield better returns on investment (ROI). B2B enterprises can effectively allocate their marketing budget by focusing on particular industries, demographic groups, or even specific companies, ensuring that every dollar invested leads to noticeable outcomes.
DATA-DRIVEN DECISION MAKING
B2B organizations may access a multitude of data and analytics capabilities thanks to digital marketing. These insights provide insightful details on consumer behavior, tastes, and interactions with the brand. Businesses can make wise decisions, hone their marketing tactics, and customize their goods to match the unique demands of their customers by studying this data. Every campaign is optimized for optimum performance thanks to data-driven marketing, which raises conversion rates and boosts consumer satisfaction.
BUILDING CREDIBILITY AND TRUST
In the B2B sector, trust is crucial. Businesses can demonstrate their subject matter expertise and thought leadership through digital marketing channels like social media and content marketing. B2B businesses may establish themselves as sector authorities and win the respect and confidence of potential customers by producing and disseminating high-quality content. Online evaluations, recommendations, and case studies also serve as social proof of a business's talents, boosting its credibility in the eyes of potential partners and customers.
FACILITATING PERSONALIZED COMMUNICATION
B2B companies may communicate with their customers in a personalized way thanks to digital marketing. Email marketing strategies can be customized to meet the unique requirements and preferences of various organizations. The link between the B2B organization and its clients is strengthened through personalization, which also improves the customer experience. Businesses can provide tailored solutions and encourage long-term relationships and repeat business by having a thorough awareness of the particular difficulties each client faces.
ADAPTING TO CHANGING CONSUMER BEHAVIOR
The digital era has radically altered how firms conduct their due diligence and make conclusions about their purchases. Before speaking with potential suppliers, B2B buyers now do a lot of research online. When customers are actively looking for solutions, a B2B company will be easy to find if it has a strong online presence. Businesses may attract decision-makers' attention at the ideal time by being visible on search engines, social media platforms, and sector-specific websites, greatly improving the possibility of conversion.
WHAT IS MEANT BY B2B DIGITAL MARKETING AGENCY?
A B2B marketing agency NYC is essential in the world of business-to-business (B2B) relations. Such firms are specialist organizations with knowledge of how to use digital technologies and tactics to help B2B companies with their marketing initiatives. But what distinguishes them from other digital marketing companies in general? Now let's get into the details.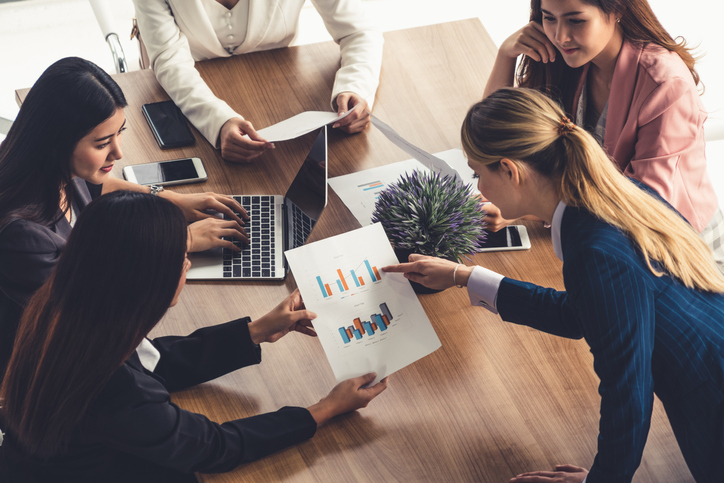 UNDERSTANDING B2B DYNAMICS
A B2B digital marketing agency NYC is aware of the particular characteristics of business-to-business transactions. B2B marketing has longer sales cycles, more decision-makers, and more complicated procurement procedures than business-to-consumer (B2C) marketing. B2B digital marketing firms are skilled at navigating this complexity and customizing their methods to match the unique needs and difficulties that businesses encounter when working with other businesses.
TARGETED AUDIENCE SEGMENTATION
B2B digital marketing companies understand how crucial accurate audience segmentation is. They are aware that marketing initiatives in the B2B sector must target significant decision-makers, influencers, and stakeholders within other businesses. To identify and target these particular categories, these organizations use sophisticated tools and data analysis processes, ensuring that marketing messages are understood by the intended audience.
CONTENT THAT RESONATES
B2B transactions sometimes require substantial financial commitments and crucial choices. Because of this, B2B digital marketing organizations construct their content with an emphasis on domain knowledge, in-depth analysis, and problem-solving. Whether it's whitepapers, case studies, or sector-specific research, the information produced is geared toward demonstrating the B2B client's subject-matter expertise and inspiring trust in prospective partners or customers.
LEAD GENERATION AND NURTURING
One of the main tasks performed by B2B digital marketing agencies is the generation of leads and their nurturing along the sales funnel. To entice potential customers, they use a variety of strategies, such as email marketing, focused social media campaigns, and content marketing. Additionally, these firms are aware of the value of lead nurturing in B2B interactions and take steps to nurture leads with pertinent, compelling content until they are prepared for conversion.
DATA-DRIVEN DECISION MAKING
Data and analytics play a significant role in the strategy development process at B2B digital marketing agencies. To monitor the success of ads, examine consumer trends, and calculate returns on investment, they make use of a variety of techniques. B2B digital marketing agencies make informed judgments, maximize marketing initiatives, and make sure that resources are deployed effectively by understanding this data.
STRATEGIC PARTNERSHIPS AND NETWORKING
B2B digital marketing organizations frequently have broad networks and powerful alliances within particular industries. As a result, they may help B2B clients collaborate, creating opportunities for profitable partnerships. These companies assist their B2B clients become more visible and credible in the market by taking advantage of their relationships in related industries.
TAKE THE FIRST STEP TOWARD B2B EXCELLENCE!
Ready to transform your B2B venture into a powerhouse of success? Embrace the expertise of Branding New York City, the best B2B marketing agency New York. 
Contact us today and embark on a transformative journey that will revolutionize your business landscape. Let's create a future where your brand not only thrives but stands out as an epitome of B2B excellence.