The recent unveiling of the new, NYC logo design has sparked debate and criticism from both New Yorkers and design professionals alike, leaving many people left to wonder who designed this highly anticipated logo.
The new logo, which features the letters "NYC" in large letters with a small heart replacing the "Y," has received mixed reviews. Some have praised it for its simplicity and recognizability, while others have criticized it for being overly simplistic and lacking in creativity.
WHO IS THE LOGO DESIGNER NYC BEHIND THE CREATION OF THIS CONTENTIOUS LOGO? 
The artist behind the new design, Graham Clifford, is a New York City-based designer with an amazing portfolio of work that includes branding and graphic design projects for a diverse variety of customers, from huge corporations to small enterprises. He has collaborated with Nike, Apple, Coca-Cola, and Levi's, as well as cultural organizations such as the New York Public Library and the Museum of Modern Art.
Clifford is an educator as well as a designer, having taught at the School of Visual Arts in New York and the Academy of Art University in San Francisco. Through numerous programs and organizations, he has also acted as a mentor and counselor to emerging designers.
Clifford's design style is distinguished by an emphasis on simplicity and timelessness, with typography and bold graphic components being used to create stunning visual identities. He has garnered various honors and honors during his career and has been acknowledged for his work by industry journals such as Communication Arts and Print magazine.
Graham Clifford's idea for the new "We Heart NY" logo was to develop a design that could unite the city while also celebrating its variety and resiliency. Clifford told Dezeen that he intended the design to be ageless and simple, with the objective of being an instantly identifiable emblem of New York City.
Clifford's design incorporates a large black heart encircled by a narrow white border, with the classic "I NY" inscription inside. The heart represents New Yorkers' passion for their city, while the white border promotes clarity and emphasis. The lettering type is powerful and forceful, with a slightly rounded form that lends it a pleasant and welcoming air.
Clifford's idea for the logo incorporates a feeling of purpose and meaning in addition to the aesthetic components. He views the emblem as a means of bringing people together and instilling pride in the community. He told Dezeen that he thinks his design would serve as a "symbol of hope and optimism" for both New Yorkers and visitors.
Graham Clifford's idea for the new "We Heart NY" logo is characterized by simplicity, clarity, and unity. He has produced a symbol that embodies the essence of what it means to love and cherish New York City by producing a design that is both aesthetically appealing and emotionally resonant.
WHY A NEW LOGO DESIGN NYC?
NYC & Company, the city's tourism agency, made the decision to replace the previous NYC logo, which featured the "NYC" letters with an apple in place of the "Y."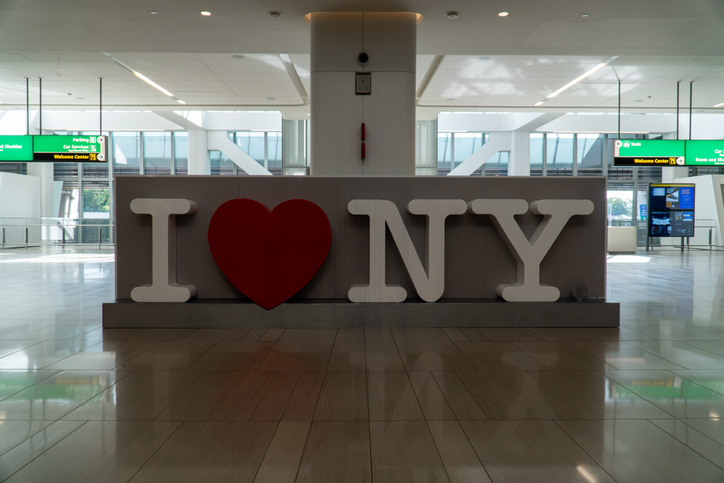 According to reports, the decision to replace the logo was motivated by a desire to modernize the city's branding and create a more modern and relevant visual identity that better reflected the city's diversity, creativity, and energy. The previous logo, in use since 2009, was deemed outdated and overly simplistic.
NYC & Company desired a new logo that was easily identifiable and could be used across multiple media platforms, including social media, websites, and print materials. The agency desired a logo that would appeal to both residents and visitors, as well as convey the city's distinct identity and spirit.
To achieve these objectives, NYC & Company commissioned Wolff Olins, a global branding agency, to design a new logo that is bold, distinctive, and memorable. Wolff Olins was tasked with creating a logo that captured the essence of New York City while also conveying its energy and creativity in a simple and impactful way.
The resulting logo, which features the letters "NYC" in large letters with a small heart in place of the "Y," has elicited mixed reactions. Some have praised it for its simplicity and recognizability, while others have criticized it for being too basic and lacking in creativity. The debate over the new logo highlights the difficulties of developing a visual identity that resonates with a diverse audience while accurately reflecting the spirit of a city as complex and dynamic as New York.
The debate over the new New York City logo emphasizes the importance of working with a skilled and experienced logo designer. Logo design is more than just making a pretty picture. It necessitates a thorough understanding of the brand, its values, and its intended audience. A logo designer based in New York City would have a better understanding of the city's culture and values, allowing them to create a logo that accurately reflects the city's essence.
FIND OUT MORE ABOUT NYC LOGO DESIGN!
Contact Branding New York City to learn more or if you need branding or logo design for your own agency. Branding New York City is the best in the business when it comes to creating and marketing your brand from the ground up.