A well-defined restaurant branding strategy and restaurant marketing agency NYC is essential in the fiercely competitive culinary industry, where taste and presentation alone are no longer enough to captivate customers. A creative, innovative, and effective marketing strategy can transform a dining establishment into a memorable and sought-after culinary destination. This article delves into the nuances of restaurant branding strategy and looks at ideas that can help a restaurant stand out in 2023.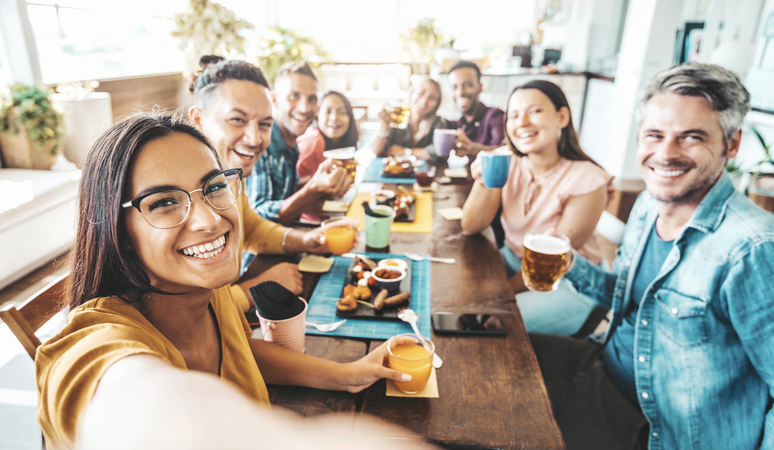 THE ROLE OF A RESTAURANT MARKETING AGENCY
The importance of a restaurant marketing agency cannot be overstated in the digital age. These specialized agencies have evolved into indispensable partners for restaurant owners and managers, providing a wide range of services such as branding, marketing, social media management, and online reputation management. A top-tier restaurant marketing agency NYC acts as a compass, guiding the restaurant through the complexities of today's dynamic consumer landscape.
UNVEILING THE BEST RESTAURANT BRANDING AGENCY
Choosing the right restaurant branding agency can make or break a business. The best restaurant branding agency creates a narrative that resonates with the target audience, not just an appealing logo or a catchy tagline. A successful branding agency grasps the essence of the restaurant, its culinary philosophy, and the one-of-a-kind experience it seeks to provide. With an eye on trends and an ear to the ground, these agencies use a combination of market research, consumer behavior analysis, and creative genius to develop time-tested branding strategies.
THE SYNERGY OF RESTAURANT BRANDING AND MARKETING
Restaurant branding and marketing are inextricably linked and work together to leave a lasting impression. While branding is concerned with identity and perception, marketing is the vehicle through which this identity is communicated to the public. The interaction of these two elements is critical for a restaurant's success in a competitive market.
ILLUMINATING IDEAS FOR RESTAURANT BRANDING AND MARKETING
STORYTELLING THROUGH DESIGN:
The visual identity of a restaurant, which includes its logo, color scheme, interior décor, and menu design, can paint a compelling narrative. The design elements should capture the essence of the restaurant, whether it's rustic charm, modern elegance, or a cultural fusion. A skilled restaurant branding agency can create a visual language that tells the story in a single glance.
CULINARY CHRONICLES ON SOCIAL MEDIA:
Social media platforms continue to dominate the realm of restaurant marketing. Engaging content that shows behind-the-scenes glimpses of the culinary journey, chef's creations, and customer testimonials can help you connect with your audience on a deeper level. Regular updates, high-quality visuals, and interactive posts all help to foster an active online community.
INNOVATIVE EXPERIMENTAL:
Immersive experiences will be the rage in 2023. Restaurants can capitalize on this trend by hosting themed nights, interactive workshops, or one-of-a-kind dining experiences. Such initiatives not only draw attention but also generate buzz and word-of-mouth advertising.
COLLABORATIVE INFLUENCER CAMPAIGNS:
Working with influencers who align with the restaurant's brand can help it reach a wider audience. Genuine influencer partnerships can introduce the restaurant to new audiences while also lending credibility to its offerings.
ECO-FRIENDLY AND SUSTAINABLE BRANDING:
As environmental concerns continue to shape consumer choices, restaurants can use eco-friendly practices to differentiate themselves. A commitment to environmental responsibility can become a pivotal aspect of branding, from sourcing local and organic ingredients to implementing sustainable packaging.
DATA-DRIVEN PERSONALIZATION:
Using data analytics, restaurants can tailor marketing efforts to individual tastes. Personalized emails, loyalty programs, and special offers tailored to each customer's history and preferences can build loyalty and connection.
HOW TO MARKET A RESTAURANT
Restaurant marketing necessitates a comprehensive and strategic approach that includes both traditional and digital channels. A well-executed marketing strategy can help to elevate the restaurant's brand, attract a loyal customer base, and drive long-term growth. Here are some key strategies for effectively marketing a restaurant in 2023:
DEFINE YOUR BRAND IDENTITY:
Create a clear and distinct brand identity before beginning any marketing efforts. Determine what distinguishes your restaurant, whether it's its cuisine, ambiance, or values. Create a compelling brand story that connects with your target audience and serves as the foundation for all of your marketing efforts.
USE SOCIAL MEDIA:
Social media platforms continue to be important in restaurant marketing. Make and keep active profiles on popular platforms such as Instagram, Facebook, Twitter, and TikTok. Post high-quality images of your dishes, behind-the-scenes moments, and customer testimonials on a regular basis. To foster a sense of community, interact with your audience through interactive content, contests, and polls.
IMPROVE YOUR ONLINE PRESENCE:
Make sure your restaurant's website is user-friendly and visually appealing. Include critical information such as your menu, contact information, business hours, and reservation options. Use search engine optimization (SEO) techniques to ensure that your website appears high in search engine results when potential customers look for relevant keywords.
CONTENT MARKETING:
Create valuable and relevant content to establish your restaurant as a trusted source of culinary expertise. Begin a blog or video series that highlights cooking tips, food trends, and insights into the cuisine of your restaurant. This not only establishes your brand as a thought leader, but it also drives organic traffic to your website.
PARTICIPATE IN INFLUENCER PARTNERSHIPS:
Collaborate with local food influencers and bloggers who share your values. Invite them to special events or tastings and encourage them to share their experience with their followers. Genuine endorsements from influencers can significantly increase the visibility of your restaurant.
EMAIL MARKETING:
Create a database of customer email addresses and use email marketing campaigns to keep in touch with your target audience. Send out newsletters containing updates, promotions, and special offers. Personalize the content based on previous interactions and customer preferences.
ONLINE ORDERING AND DELIVERY:
In this day and age, providing online ordering and delivery services is critical. Partner with well-known food delivery platforms or create your own ordering system on your website. Emphasize the convenience and security of ordering from your restaurant.
REVIEWS AND ONLINE REPUTATION:
Encourage happy customers to leave positive reviews on sites like Yelp, Google, and TripAdvisor. Respond quickly to both positive and negative reviews to demonstrate your dedication to customer satisfaction. A strong online reputation can influence the decisions of potential customers.
HOST EVENTS AND PROMOTIONS:
Plan themed nights, special events, or promotions to pique people's interest and draw them in. Consider wine and dine evenings, chef collaborations, or holiday-themed menus to generate buzz and attract a diverse audience.
COMMUNITY ENGAGEMENT:
Take an active role in your community. Sponsor or participate in community events, work with nearby businesses and donate to charitable causes. This not only increases the visibility of your restaurant but also fosters goodwill.
VISUAL CONTENT AND PHOTOGRAPHY:
Spend money on professional food photography and videography. Customers may be enticed to visit your restaurant if they see mouthwatering images of your dishes. Visual content is easily shared and can attract attention across multiple platforms.
LOYALTY PROGRAMS:
Set up a loyalty program to reward repeat customers. Incentivize customer loyalty and encourage repeat visits by providing discounts, free items, or exclusive events.
A restaurant can create a robust marketing plan that resonates with its target audience, cultivates a strong brand presence, and establishes a lasting connection with customers by implementing these strategies. Remember that consistent effort and adaptation to emerging trends are critical to sustaining successful restaurant marketing in 2023's ever-changing landscape.
BRANDING NEW YORK CITY – YOUR GO-TO RESTAURANT MARKETING AGENCY
When it comes to shaping your restaurant's success, every detail matters – and that's where we come in. At Branding New York City, we specialize in crafting unforgettable culinary experiences that captivate hearts, minds, and taste buds. Our team of passionate strategists, creative geniuses, and marketing mavens is dedicated to propelling your restaurant to the forefront of the NYC dining scene.
Discover the power of exceptional branding and marketing that resonates far beyond your tables. Contact Branding New York City – the best restaurant marketing agency NYC and your passport to culinary stardom in the heart of the city that never sleeps.